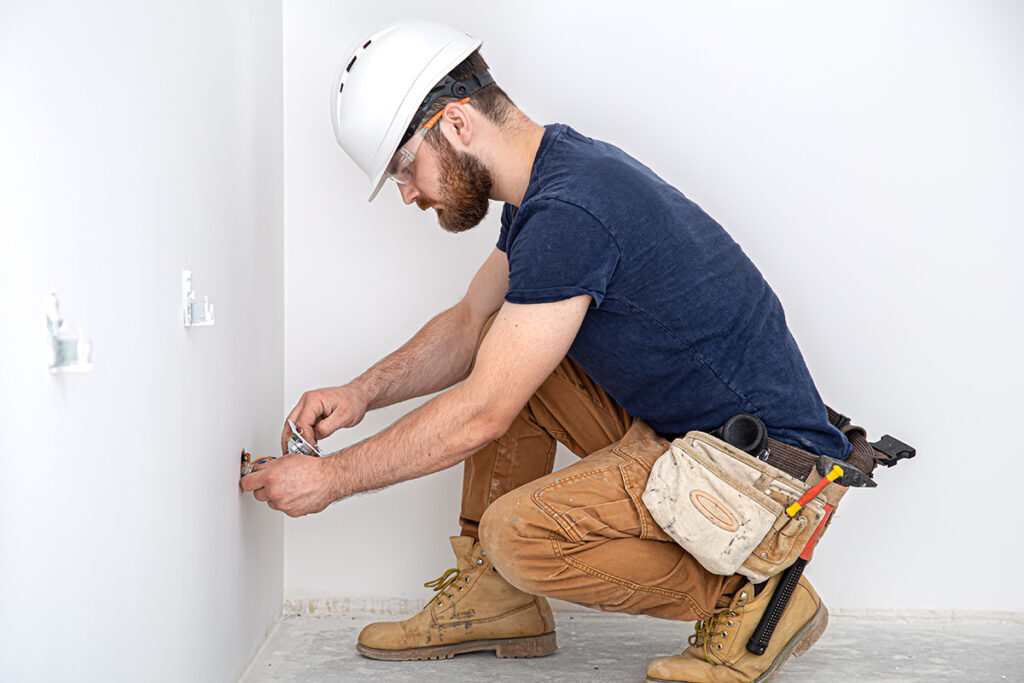 In our current world, we must have power for even the most basic tasks. We can no longer function without safe and reliable electricity. So we all need to ensure that this basic necessity is in "good hands" by hiring electrical contractors to look after the electrical work in our homes, offices, schools, churches, and workplaces.
It is not only the job of any electrical contractor to run wires and install lighting and appliances, but to also protect their customers from potential dangers such as electrical shorts, igniting a fire or getting shocked. It is important to hire an experienced and licensed contractor who follows all applicable electrical codes to insure your safety as well your family, friends, and co-workers.
Whether you are wanting to remodel an area of your home or business, or start from the ground up, choosing the right electrical contractor is one of the most important decisions you will make to determine the success of your project. Your particular project requires an electrician with experience and skill working on jobs similar to yours.
Here are some tips when hiring electrical contractors in Shreveport:
Check Appropriate Licensing
The first step when hiring an electrical contractor is to check his license to verify that the contractor is authorized to do electrical work in your area. This license gives you assurance that the contractor is trained to work in the electrical field and can handle the job by adhering to safety standards and local building codes.
In addition to the contractor being state licensed, individual electricians may be licensed as either Master or Journeyman electricians by their local governing authorities. If they are a "card-carrying" electrician, they will have passed a basic test on local code requirements.
So, check the contractor's license before hiring an electrician in Shreveport.
Check Contractor's Insurance
The next step is to verify the contractor's insurance certificates to determine if the contractor is insured or not. A licensed electrician by law must carry worker's compensation and liability insurance for accidents and injuries that could occur while on the job. Hiring a contractor that only carries the minimum necessary insurance is opening yourself up to risk, so never be too shy to ask a company for a copy of their insurance certificates. This is very common and the contractor should have this information readily available.
Check Credentials and Training
As you decide on a contractor, you should evaluate their experience and capability based on their past jobs that are similar to yours. Don't be too shy to ask the company what size jobs they typically do and what kind of jobs they have handled in the past. You should select a contractor who is a "good fit" for your and your needs.
Don't forget that you aren't just hiring the business owner. Select a commercial electrical contractor that conducts thorough background checks for new hires, so that you feel secure with the workers that are sent to your home or business.
Check Recommendations, Reviews and References
Next when hiring a contractor is to check their reviews, references, and recommendations. These give you a fair idea of what type of work the contractor is doing and also get an idea of the quality of work that the company has done. Ask the electrical contractor to provide contact information of some recent clients who had the same work performed as you are needing. Though it's time-consuming to "vet out" each company you evaluate, it will help to insure you are making he right choice.
This will help you determine if the contractor is capable of the type of work you need to get done. Having a thorough check of reviews, references, and recommendations is important before hiring a new electrical contractor.
Check the Contractor's Experience
When making a final decision, remember that cost is only one factor in your decision. It is often too risky to hire untrained electricians to complete electrical jobs in your home or business. Choose a company with lots of experience in the specific type of work you are having done. If the contractor asks for a large down payment or wants you to purchase the materials, that may be a sign that you need to find someone else.
Check Cost & Budget
Going with the lowest bid on your project may save money in the short term, but you need to make sure that the electrical contractor you choose has the appropriate licensing, insurance and experience for the work you want completed.
It is important to determine your budget before starting the job. It is also beneficial to have a good relationship with the contractor since he is in charge safety in our homes and businesses. The contract details should also be finalized and agreed upon before the work begins.
Conclusion
All these tips should be checked before you hire a new electrical contractor. Observe how the workers interact with you and/or your staff. Their demeanor should be courteous, knowledgeable and respectful. If you feel like they did a good job, be sure to take a few minutes after the project is complete to give your contractor a good online review or written testimonial to show you appreciation for a job well done.